Blazing Fast Read/Write Speeds With A Full Body Copper Heatsink For The Best SSD Performance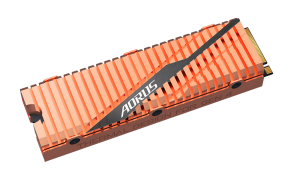 Taipei, Taiwan, May 29th, 2019 – GIGABYTE TECHNOLOGY Co. Ltd, a leading manufacturer of motherboards and graphics cards, today announced the new NVMe architecture and PCIe 4.0 interface based M.2 SSD. The new SSD comes in 3 different capacity sizes, uses a full body copper heatsink to bolster heat dissipation during operation, and delivers sequential read/write speeds at 5000/4400 MB/s. GIGABYTE Ultra Durable certified the new SSD has undergone rigorous stress tests to ensure that the SSD performs at an elite level users expect from an AORUS product.
AORUS NVMe Gen4 SSD uses an all-new PCIe 4.0 controller with Toshiba Bisc4 Nand Flash memory particles, providing up to a 40% performance boost over PCIe 3.0 which translates to 5000MB/s sequential read speeds. Whether reading data or booting up games, the SSD boasts data transfer rates at unprecedented speeds. The new series offers 3 capacity options at 500GB, 1TB, 2TB, comes in 2280 module sizing and supports the PCIe 4.0×4 M.2 interface. Whereas SATA SSDs use data and power cables, the M.2 SSDs are easier to configure with its cable-free design which also improves airflow in the chassis, increasing overall heat mitigation.
AORUS NVMe Gen4 SSD offers excellent heat dissipation with its full body copper heatsinks and LAIRD high conductivity thermal pad so the heat generated from the operation of the device is quickly transferred to the heatsinks. The stylish heatsink design is composed of around 30 fins which have been sandblasted, offering greater heat dissipation surface area without diminishing the strength of the heatsink while also easing crowding around the M.2 slot area with its space-efficient design. Compared to SSDs with single side coverage or smaller heatsinks, AORUS NVMe Gen4 SSD provides superior heat dissipation so it can mitigate the heat generated at high temperatures when the SSD is in operation, extending the product lifespan and bolstering the SSD performance.
"When the PCIe 4.0 specification was announced, GIGABYTE was already a step ahead in preparation for the development of the product. Through the smaller size and superior performance attributes of the NVMe PCIe 4.0 M.2 interface, performance-seeking users will be able to unleash the best SSD performance," said Jackson Hsu, Director of the GIGABYTE Channel Solutions Product Development Division. "GIGABYTE AORUS NVMe Gen4 SSD further advances the standards set by our previous SSD products. The SSD fulfills many users' expectations and users are getting better performance, a better thermal design, a GIGABYTE Ultra Durable certified product, and a nice selection of size capacities at 500GB, 1TB, and 2TB."
To guarantee the most stable and best read/write performance, GIGABYTE stress tested the M.2 SSDs with motherboards under rigorous testing conditions. Under various high-load test software with high temperatures and high pressure, the M.2 SSDs have successfully passed the stress tests and are ready to perform so users can expect the best product quality and durability.
GIGABYTE NVMe Gen4 M.2 SSD is ready for release and will soon be available to users. For more details, please visit the official GIGABYTE website: http://www.gigabyte.com