Taipei, Taiwan, May 13th, 2020 – GIGABYTE TECHNOLOGY Co. Ltd, a leading manufacturer of motherboards and graphics cards, today announced the new W480 VISION series creator and workstation motherboard, to complete the GIGABYTE VISION product line. These new motherboards are designed specifically for the new Intel® Xeon W and 10th Gen Core™ processors which come with up to 12 phase digital power and the latest thermal design, features four sets of memory slots supporting dual-channel ECC and non-ECC Unbuffered DDR4 memory, Intel® 2.5GbE + 1 GbE dual-server-level network, and other advanced functions. Moreover, further equipped with special functions according to different usage requirements such as Thunderbolt 3, Intel® Wi-Fi 6 and SATA DOM make the construction of the workstation more efficient and stable, and content creators can fully realize the creative ideas to design unique and excellent works.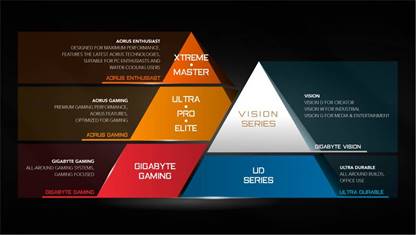 "VISION is the ability to see beyond. It is an attitude to create with tremendous dedication and craftsmanship. With VISION, you can see more, explore more, and achieve more. Let VISION help your creativity flow with its minimalist design language, thoughtful features, reliable operation, and powerful performance" says GIGABYTE. With the launch of the W480 VISION series motherboards, the previously launched VISION memory, Z490 VISION motherboards, and other related products, the entire VISION product line is now more complete.
For users who rely on content creation, reducing error correction and shortening creation time is the best way to reduce costs. Intel's® latest Xeon® W processor is mainly locked on the professional creator platform, not only has excellent effectiveness, security and stability, but also can perform cloud computing, real-time analysis, mission-critical business processing, and large data processing more accurately. It is more suitable for VFX, 3D compilation, 3D CAD, AI development, and edge deployment. With the support of Error Correcting Code (ECC) memory, it can further automatically detect and repair memory data errors, reduce the possibility of system crashes and data corruption, to ensure reliable and responsive workstation performance, so that creators and workstation's more smoothly meet every challenge.
The GIGABYTE W480 VISION series motherboards support Multi-GPU technology to boost graphical performance. At the same time, by spacing the graphics cards in multi-graphics configurations, users are now able to obtain maximum airflow between cards. Content creators can use multiple large-scale high-end display cards or Quadro workstation graphics cards and other devices designed for 3D drawing and model construction to further enhance computing performance and shorten working hours. In addition, according to the needs of different consumers, GIGABYTE also uses different special functions for different W480 VISION motherboards. Among them, the built-in Thunderbolt™ 3 of the W480 VISION D provides two sets of USB Type-C ™ interfaces, providing up to 40 Gb / s channels per channel Ultra-high bandwidth, can transfer large files in a very short time, and through daisy chain technology, a single port can connect 6 devices in series, making the use more flexible. Creators who are engaged in illustrating work can also directly connect to high-end pen displays to convert ideas from their brain directly to their works or even present them on the big screen to discuss more details, or modify the fine-tuning in time when making proposals to make the work more refined and more complete.
Generally speaking, workstation users care more about the speed and stability of the network. The GIGABYTE W480 VISION series motherboards come with dual Intel® server-level network designs, providing both 2.5 GbE and 1 GbE network function, and supporting vPro technology. Consumers can also have excellent network configuration flexibility even without upgrading network equipment. In addition, W480 VISION D implements an Intel® WiFi 6 802.11ax network adapter and high-gain smart antenna to deliver up to 2.4Gbps transmission speed. The ultra-fast Ethernet and WiFi configuration means that users have a flexible configuration with ultra-fast and a stable internet connection. Of course, other W480 VISION motherboards can also be expanded and upgraded when needed to enjoy the same high-speed wireless experience.
The W480 VISION series motherboards inherit GIGABYTE's leadership in motherboard power design and VRM thermal, using up to 12-phase direct power design paired with highly durable DrMOS to provide the best power balance. Solid power pin connectors on the W480 VISION series motherboards ensure that the power delivery is stable while reducing excess heat during high workload to prevent throttling, and make the processor more stable to avoid downtime due to an unstable power supply. With the new design of the fins-array, direct-touch heat-pipe, and large heat sink plus and Smart Fan 5 technology, it not only strengthens the thermal effect but also takes into account the appearance design, allowing the Gigabyte W480 VISION motherboards to be both stylish and thermally efficient.
GIGABYTE W480 VISION motherboards use PCIe 4.0 grade PCBs, PCIe slots, M.2 slots, and controllers for the highest bandwidth quality. With PCIe x4 M.2 slots and large heat dissipation film, it allows M.2 SSD high efficiency and low-temperature operation. In addition, W480 VISION W and W480M VISION W which are designed for workstation construction, have built-in up to 10 SATA interfaces, allowing users to easily build multi-disk RAID settings while taking into account high speed, large capacity, and data protection. Users no need to worry about the works damage or important data lose just because of the accidents. Furthermore, the SATA DOM ports designed in the W480 VISION W motherboard can increase the speed of SATA storage devices and has high reliability. The workstation or even server builders who have related requirements can use it for device backup and recovery, device authentication, operating system installation, construction of embedded system storage devices, etc. so that the system configuration is more flexible.
In addition, for users who have a need for video editing, or simply want to listen to music to relieve tension during work, excellent sound performance from the motherboard is absolutely indispensable. GIGABYTE W480 VISION series motherboards utilize the ALC 1220-VB audio engine and pair it with the WIMA FKP2 studio-grade audio capacitors to deliver studio-grade, high-quality audio. In addition, it supports DTS:X® Ultra to deliver high-quality audio for the most immersive sound experience and quality, whether it's for entertainment or video/audio editing work.
The W480 VISION series motherboards continue to set new standards in the reliability, performance, and convenience for creative professionals. The reliability comes from the support of ECC Memory, along with its solid power and thermal designs. By pairing with the high-end Intel® Core™ or Xeon® W series processors, the combination delivers unparalleled computing power for faster content creation, thereby enhancing your productivity with endless creativity.
For more information and news on GIGABYTE products, please visit the official GIGABYTE website: http://www.gigabyte.com