Taipei, Taiwan, April 24th, 2020 – GIGABYTE TECHNOLOGY Co. Ltd, a leading manufacturer of motherboards, graphics cards and gaming gears, today announced the AORUS K1 mechanical gaming keyboard. AORUS K1 has built-in the gamer 's favourite German CHERRY MX mechanical gaming RED key-switch. The high-quality CHERRY MX gaming red key-switch can quickly and accurately capture the gamer's movements into the computer to win every battle. AORUS K1 sculpts some details in its simple and neat appearance so that the keyboard can still show its own personality. RGB Fusion 2.0 allows AORUS K1 to display lights with other AORUS devices and customizes various lighting modes. Other functions such as full-range anti-ghosting capability, all keys programmable with on-board memory, and on-the-fly multimedia and backlight control, are all designed to meet the requirements of gamers.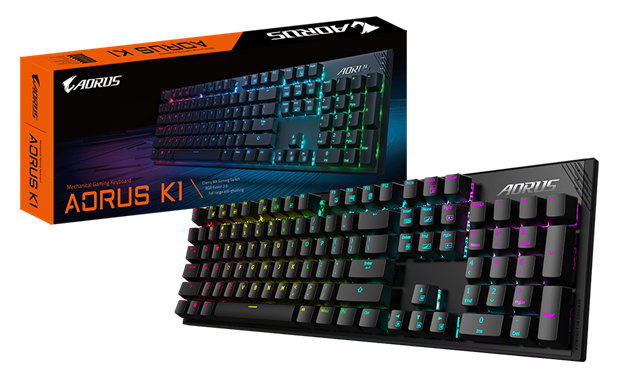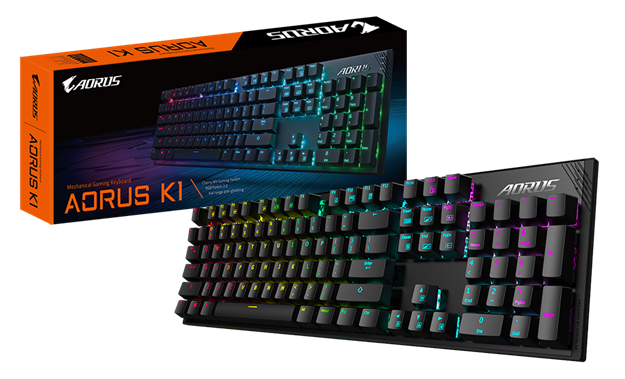 AORUS K1 is equipped with the German CHERRY MX mechanical gaming red key-switch. The switch has linear switching characteristics, 45 cN operating force and 2mm actuation travel, which can accurately and quickly capture each finger movement of the gamer. High-quality German-made technology, hundreds of keys working accurately, and a service life 100 million plus times for the keys, so that gamers have no worries while competing, making the CHERRY MX gaming red key-switch the obvious choice for gamers. AORUS K1 is equipped with RGB Fusion 2.0 which has 16.7 million colors of lighting colors and multiple lighting modes. It can be synchronized with other AORUS devices. It can also set different lighting methods for each individual key to create your own unique colors.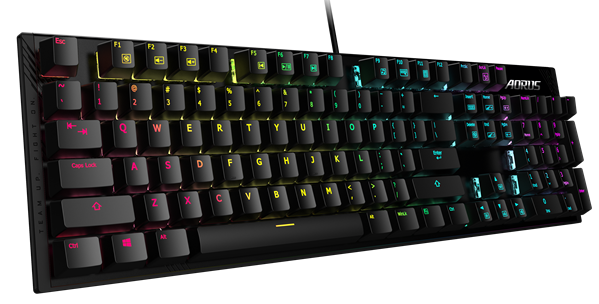 AORUS K1 has a full-range anti-ghosting capability, allowing gamers to enjoy full-speed operation without fear of missing any input signals on the keyboard during the fierce competition. The convenient on-the-fly multimedia and backlight control allow users to directly use key combinations to change various lighting modes, lighting colors, or multimedia functions without opening the software. The on-board memory of the keyboard can be used to edit various macros to any key through the AORUS engine application. After being stored in the keyboard, it can be used without starting the software. The AORUS K1 cable can be adjusted to the most suitable position to avoid interference during extreme use.
GIGABYTE combines only the most necessary features to create a simple and powerful AORUS K1 mechanical gaming keyboard. In addition to being a necessary weapon for e-sports games, it is also the best choice for various gamers.
About GIGABYTE
GIGABYTE is an engineer, visionary, and leader in the world of tech that uses its hardware expertise, patented innovations, and industry leadership to create, inspire, and advance. Renowned for over 30 years of award-winning excellence, GIGABYTE is a cornerstone in the HPC community, providing businesses with server and data center expertise to accelerate their success. At the forefront of evolving technology, GIGABYTE is devoted to invent smart solutions that enable digitalization from edge to cloud, and allow customers to capture, analyze, and transform digital information into economic data that can benefit humanity and "Upgrade Your Life". Please visit https://www.gigabyte.com/ for more information.