The best graphics card for water-cooling PCs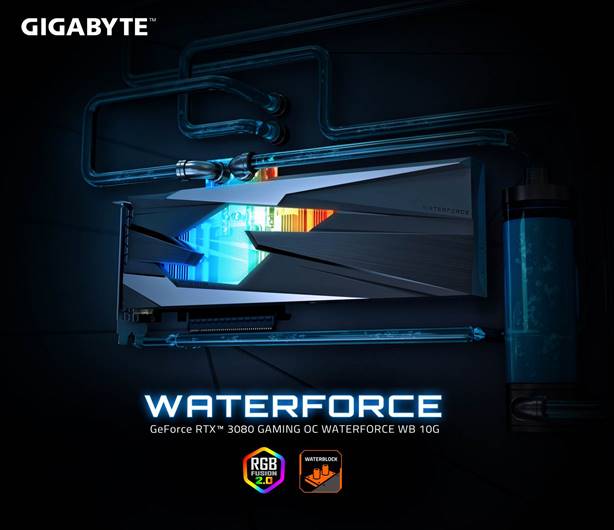 Taipei, Taiwan, April 1st, 2021 – GIGABYTE TECHNOLOGY Co. Ltd, a leading manufacturer of premium gaming hardware, today announced the GIGABYTE WATERFORCE graphics card – GeForce RTX™ 3080 GAMING OC WATERFORCE WB 10G powered by the NVIDIA GeForce RTX™ 3080 GPU. Whether users are looking to fulfil the demands of their high-end water-cooled systems or to enjoy the benefits of water-cooled GPU and CPUs, GIGABYTE GAMING OC WATERFORCE graphics card is the best choice. GIGABYTE provides easy-to-install and quality-guaranteed water-cooled graphics cards for desktop PCs.
With the continuous increase in CPU power consumption, high-end water-cooled motherboards in the market are becoming more and more popular. The easy-to-install and quality-guaranteed GIGABYTE GAMING OC WATERFORCE graphics card is the best match for the water-cooling system, so the water-cooling system is no longer a difficult choice. Just invest a little more than the GAMING OC air-cooled version and you can enjoy the water cooling benefits for the GPU and CPU. GAMING OC WATERFORCE graphics card is equipped with a top-of-the-line overclocked GPU. It provides an all-around cooling solution for all key components of the graphics card. It takes care of not only the GPU but also VRAM and MOSFET to ensure stable overclock operation and longer durability.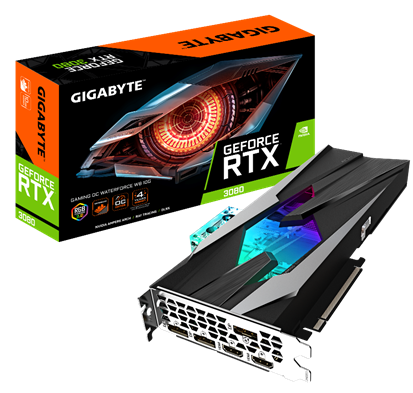 GIGABYTE provides factory-assembled professional quality, RGB Fusion 2.0 lighting effects, protection metal backplate and ULTRA DURABLE certified components. All these features make GAMING OC WATERFORCE graphics cards the best choice. The dual BIOS physical switch design allows users to choose between OC mode and Standard mode according to their needs.
If the user replaces the air-cooled graphics card with the third-party water-cooled kit, in addition to increasing the risk of damage to the graphics card, the warranty will also be lost. The water block installed by GIGABYTE has been professionally designed and tested to accurately dissipate the heat generated by the graphics card. It has better heat dissipation efficiency than the third-party kits.
We want you to experience the best service you have ever had. This is why on top of our standard 3-year warranty, we would like to offer you an additional 1 year of protection to your graphics card free of charge. You can enjoy a 4-year warranty by registering on the website within 30 days of purchase.