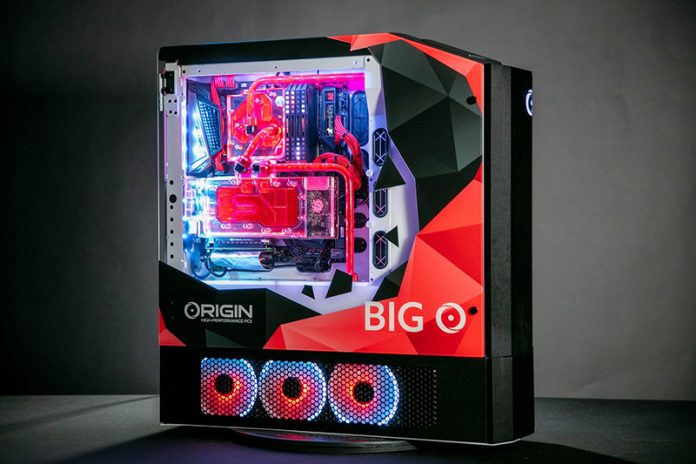 One-of-a-Kind Gaming System Combines a Gaming PC with Three Consoles
ORIGIN PC is celebrating its 10th anniversary of building world-class high-performance custom PCs for gamers, enthusiasts, and professionals with a one-of-a-kind gaming system showcasing the best of PC gaming and console gaming. The system is called Big O, which combines a high-powered gaming PC with an Xbox One X, PlayStation 4 Pro, and Nintendo Switch inside a modified ORIGIN PC GENESIS chassis. This build is a throwback to the original award-winning Big O system built in the early years of ORIGIN PC's history that at the time combined a powerful gaming PC with an Xbox 360.
By using their case modding and PC building expertise, the ORIGIN PC team spent countless hours testing, designing, and building the modern Big O as a stunning technical showpiece. With inspiration from previous custom builds, the Big O offers an incredible hardline liquid cooling solution for the Intel Core i9-9900K CPU and NVIDIA TITAN RTX GPU, which also extends to the Xbox One X and PlayStation 4 Pro. As for the Nintendo Switch, the team built a custom dock in the front panel of the Big O using the original hardware in order to retain the complete "docking" capabilities of the system. Thus the Nintendo Switch can be docked for full-screen gameplay or removed to take gaming on the go.
With every major gaming platform packed into the Big O, the team built an easy-to-use input and output at the rear of the system for video output, USB ports, and internet access. Either play with the consoles via the Elgato 4K60 capture card on the gaming PC or a single HDMI output pre-wired to support the three consoles.
"The amazing games and the incredibly beautiful, ridiculously powerful, and totally custom machines like the Big O keep me just as excited and passionate about gaming PCs today than I was 20 years ago when I started in this industry," said Kevin Wasielewski, ORIGIN PC CEO, and co-founder. "We are very proud to celebrate our 10-year anniversary with the launch of the Big O and to share our passion and creativity with the world."
The Big O is a one-of-a-kind machine that captures ORIGIN PC's creativity and skill in building custom PCs.
For more information, please visit:
For pictures of the Big O, please visit:
https://photos.app.goo.gl/NfRnZix8JpxmmR9z8
Watch Unbox Therapy's Hands-On with Big O:
Big O Specs
PC
Case: Custom ORIGIN PC GENESIS with RGB Lighting
Side Panels: Tempered Glass with HD UV Printing
Mounting: Standard Orientation with Vertical GPU Mount
Motherboard: MSI MEG Z390 GODLIKE
CPU: Intel Core i9-9900K 8-Core Processor with 5 GHz Turbo Boost
GPU: NVIDIA TITAN RTX 24GB GDDR6 Graphics Card
RAM: 64GB CORSAIR Dominator Platinum RGB 3200MHz (4×16)
OS Drive: 2TB Samsung 970 EVO M.2 NVMe
Storage Drive 1: 2TB Samsung 970 EVO M.2 NVMe
Storage Drive 2: 14TB Seagate BarraCuda
Cooling: Custom ORIGIN PC CRYOGENIC Hardline Liquid Cooling
Fans: CORSAIR RGB Fans
Power Supply: 1000W EVGA SuperNOVA G3
Add-on Card: Elgato Game Capture 4K60 Pro
Operating System: Windows 10
Xbox One X
Xbox One X Motherboard
Custom ORIGIN PC CRYOGENIC Hard Line Liquid Cooling
Upgraded 2TB Seagate Barracuda SATA SSD
Original Operating System, Digital Only Media
PlayStation 4 Pro
PlayStation 4 Pro Motherboard
Custom ORIGIN PC CRYOGENIC Hard Line Liquid Cooling
Upgraded 2TB Seagate Barracuda SATA SSD
Original Operating System, Digital Only Media
Nintendo Switch
Custom Nintendo Switch Dock Using Original Hardware
Original Operating System, Physical, and Digital Media
Connect with ORIGIN PC:
www.twitter.com/originpc
www.facebook.com/originpc
www.twitch.tv/originpc
www.youtube.com/originpc
www.instagram.com/originpc