FREMONT, CA, July 30th, 2019 – CORSAIR®, a world leader in PC gaming peripherals and enthusiast components, today announced the new iCUE 220T RGB Airflow Smart Case and iCUE SP RGB PRO range of 120mm and 140mm RGB cooling fans, enabling vibrant RGB lighting and strong cooling performance out-of-the-box with full iCUE software integration.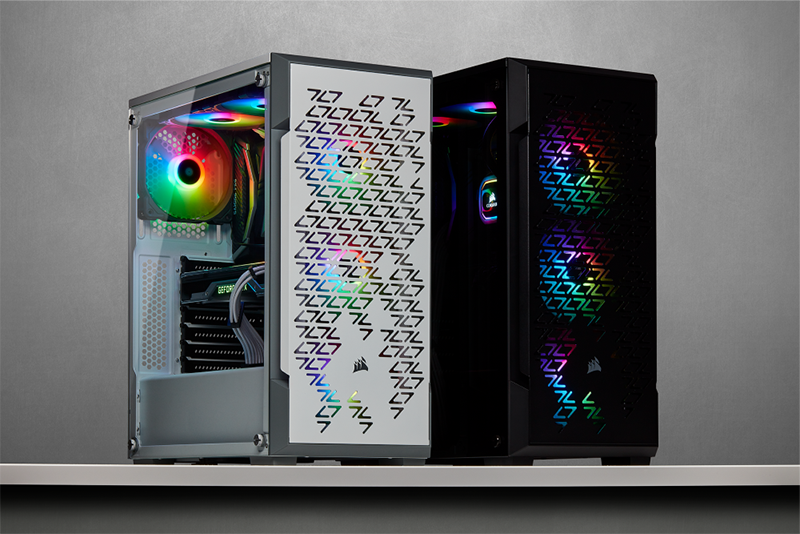 The CORSAIR iCUE 220T RGB Airflow offers PC enthusiasts the cooling they need for high-powered systems along with stunning visuals to stand out from the crowd. Meticulously designed for powerful and efficient cooling, the 220T RGB Airflow sports a distinctive removable steel front panel allowing for high airflow into the case, and an internal layout that directs that cool air to your PC's hottest components.
Behind the steel front panel are three included SP120 RGB PRO fans, cooling your system down while lighting it up with eight individually addressable RGB LEDs per fan, for a total of 24. SP120 RGB PRO fans provide high airflow and static pressure along with their stunning lighting, optimized for low-noise operation with a maximum speed of 1,400 RPM. The 220T RGB Airflow offers the potential for even more cooling with ample room for up to 6x 120mm fans, up to 4x 140mm fans, or multiple radiators in sizes up to 360mm.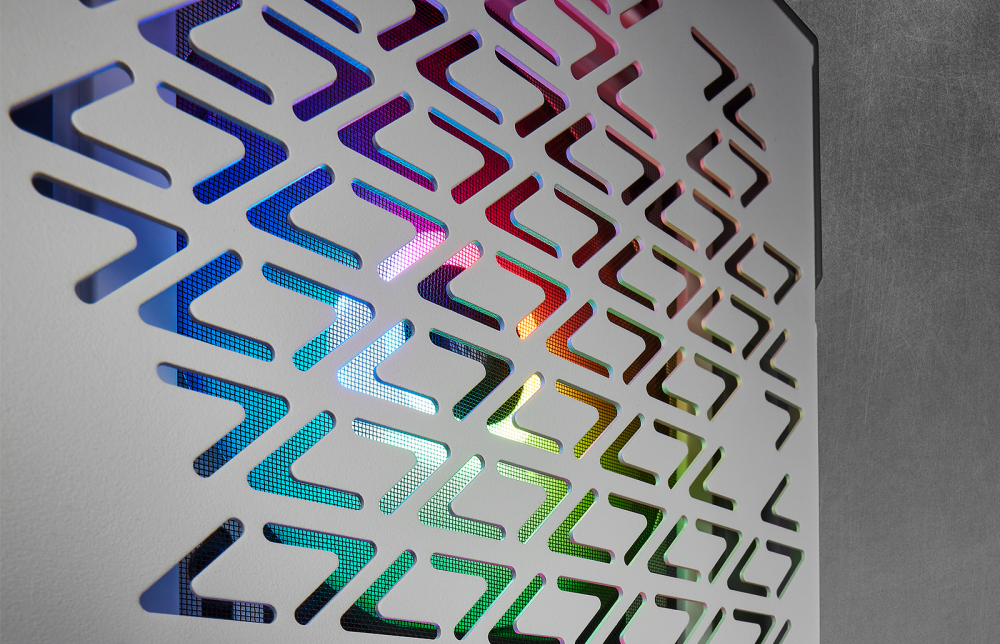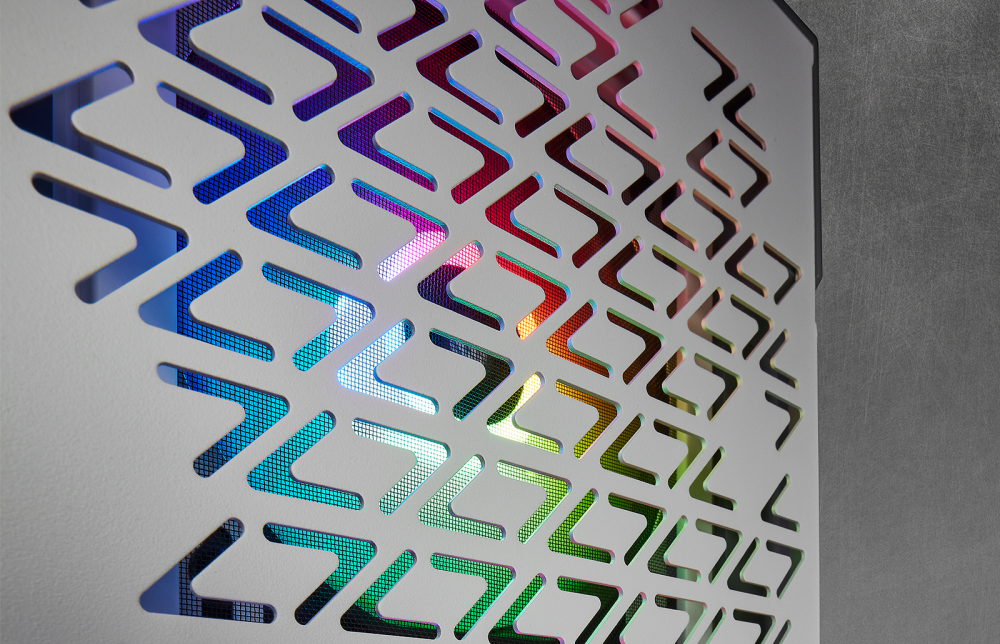 The three SP120 RGB PRO fans connect to an included CORSAIR iCUE Lighting Node CORE, the newest addition to the range of CORSAIR iCUE lighting controllers. The Lighting Node CORE connects directly to up to six of the same CORSAIR RGB fans, without the need for a separate fan hub, cutting down on cable clutter and making installing vivid RGB fan lighting easier than ever. Experience near-unlimited lighting customization via iCUE software, letting you create intricate lighting patterns and effects synchronized across all your compatible CORSAIR devices, including fans, DRAM, keyboards, mice, LED light strips, and more.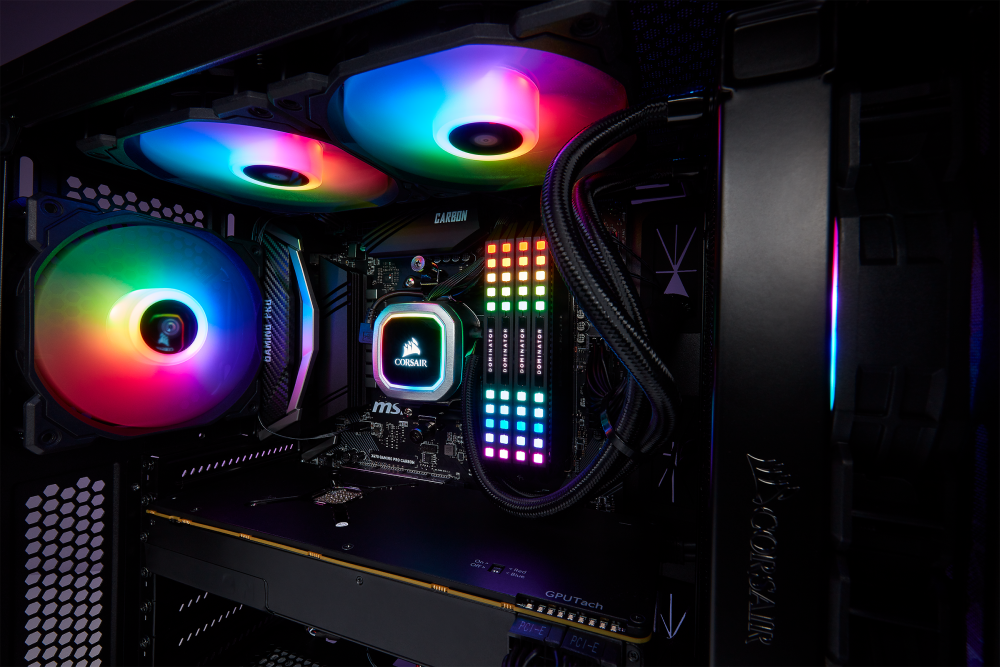 The 220T RGB Airflow houses your system behind a single edge-to-edge tempered glass side panel to showcase your PC's high-profile components and full-scale light shows. Its flexible storage options let you install up to four drives, including two 2.5in trays and two trays in a removable cage that can accommodate additional 3.5in or 2.5in drives. Intuitive cable routing channels with built-in rubber grommets make for exceptionally tidy builds with improved airflow. A full-length PSU cover hides your power supply and cables, while removable dust filters in the floor, roof, and front of the case help keep your system clean, making it easy to build and maintain a great, professional-looking PC.
Both the iCUE 220T RGB Airflow and SP RGB PRO fans deliver outstanding lighting right out of the box, without sacrificing the cooling performance that enthusiasts demand for today's most ambitious system builds.
Availability, Warranty and Pricing
The CORSAIR iCUE 220T RGB Airflow is available in either black or white.
CORSAIR iCUE SP RGB PRO fans are sold separately, available in packs of 3x 120mm, 1x 120mm, 2x 140mm, and 1x 140mm. Triple and Dual kits both include an iCUE Lighting Node CORE RGB Lighting Controller. A compatible iCUE digital lighting controller is required for software RGB lighting control with all SP RGB PRO fans.
The 220T RGB Airflow and SP RGB PRO fans are backed by a two-year warranty and the CORSAIR worldwide customer service and technical support network.
Web Pages
To learn more about the 220T RGB Airflow and SP RGB PRO fans, please visit:
220T RGB Airflow: https://www.corsair.com/220t-airflow-mid-tower-case
SP120 RGB PRO: https://www.corsair.com/sp120-rgb-pro-fans
SP140 RGB PRO: https://www.corsair.com/sp140-rgb-pro-fans
Video
The launch video for the 220T RGB Airflow can be found at the link below:
Product Images
High-resolution images of the 220T RGB Airflow and SP RGB PRO fans can be found at the links below:
220T RGB Airflow (Black): https://corsair.sharefile.com/d-sf00e8e04328486db
220T RGB Airflow (White): https://corsair.sharefile.com/d-sa0711f5cfd04f9c9
SP120 RGB PRO: https://corsair.sharefile.com/d-sc67443c4c5c42b98
SP140 RGB PRO: https://corsair.sharefile.com/d-s7340a8406024428b
About CORSAIR
Founded in 1994, CORSAIR has grown from pioneering the high-performance DRAM market into one of the world's leading providers of high-performance PC peripherals and components. CORSAIR offers a complete range of products to equip gamers, enthusiasts and e-sports athletes, including mechanical keyboards, precision gaming mice, wireless headsets, high-performance components that gamers use to build gaming PCs, and the CORSAIR ONE fully-integrated gaming PC. With a company-wide commitment to quality, innovative design, advanced features and high performance, CORSAIR products have won thousands of media and industry awards, earning their place in gamers' hands and PCs following years of development and engineering by a team dedicated to building great products they themselves would want to use.
Copyright © 2019 CORSAIR Components, Inc. All rights reserved. CORSAIR, the sails logo, and Vengeance are registered trademarks of CORSAIR in the United States and/or other countries. All other company and/or product names may be trade names, trademarks, and/or registered trademarks of the respective owners with which they are associated. Features, pricing, availability, and specifications are subject to change without notice.