Taipei, Taiwan, July 26th, 2019 – GIGABYTE, the world's leading premium water-cooled graphics card manufacturer, today announced the highest level of AORUS WATERFORCE graphics cards powered by NVIDIA GeForce® RTX 2080 SUPERTM GPU. GIGABYTE launched 2 AORUS WATERFORCE graphics cards – AORUS GeForce® RTX 2080 SUPERTM WATERFORCE 8G, AORUS GeForce® RTX 2080 SUPERTM WATERFORCE WB 8G. Both graphics cards are equipped with top-of-the-line overclocked GPUs certified by GIGABYTE GPU Gauntlet™ sorting technology. AORUS provides the all-around cooling solution for all key components of the graphics card. AORUS takes care of not only the GPU but also VRAM and MOSFET to ensure stable overclock operation and longer durability.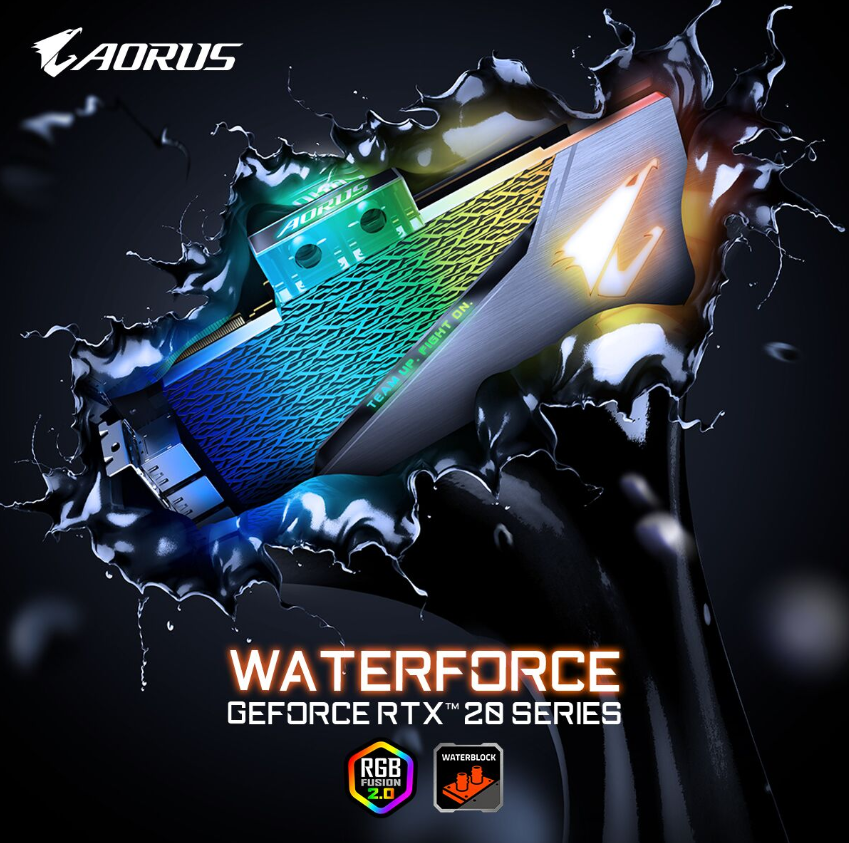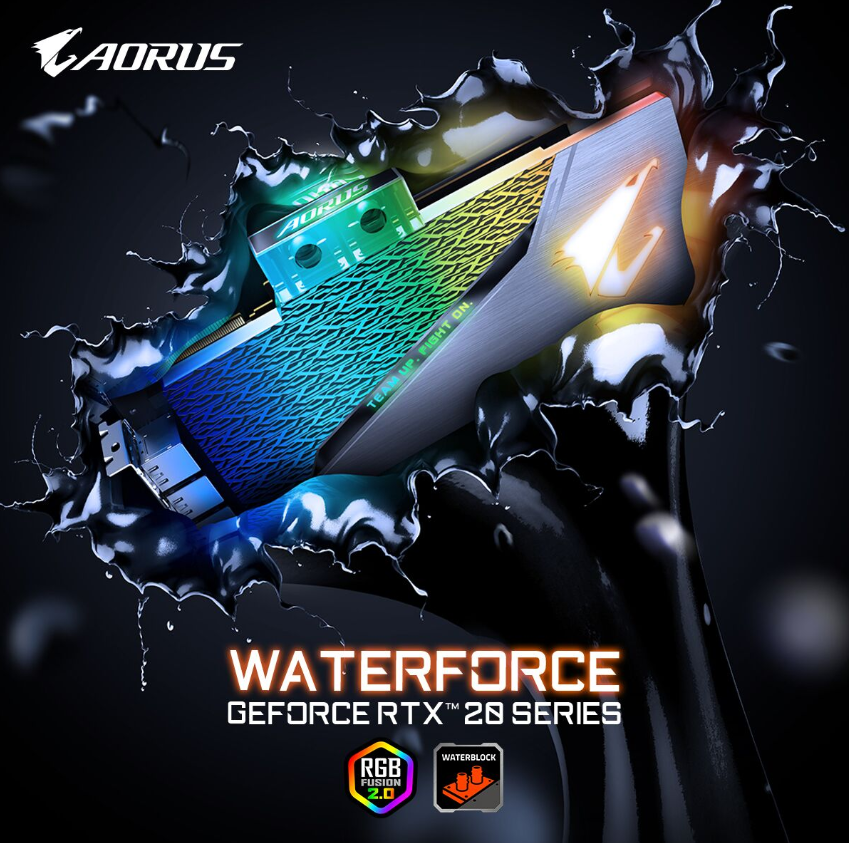 In addition, with excellent RGB lighting effects, exclusive 7 video output connectors, protection metal backplate, dust-proof and moisture-proof aerospace-grade PCB coating, Ultra-Durable top-grade materials and registered AORUS members extended warranty, etc., AORUS WATERFORCE graphics card is the best choice for top players to pursue both quiet operation and performance.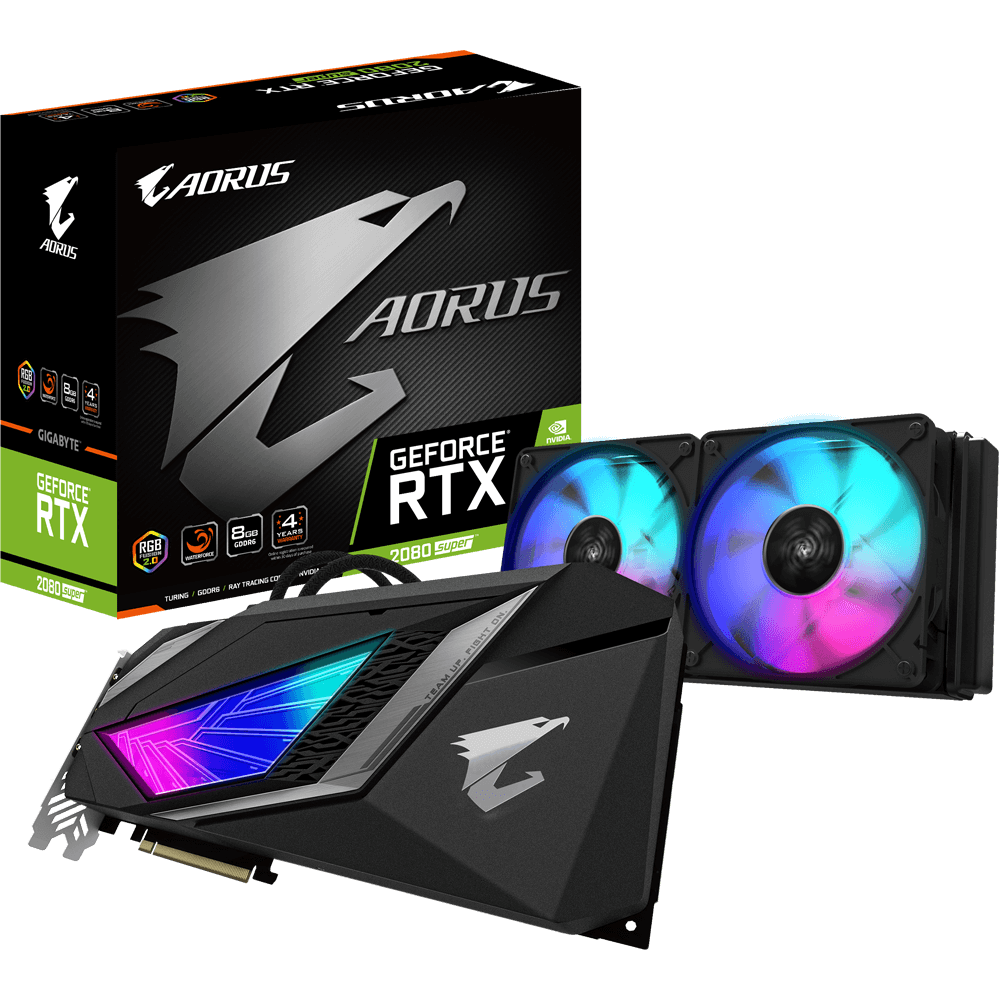 AORUS GeForce

®

 RTX 2080 SUPERTM WATERFORCE 8G
AORUS WATERFORCE all-in-one graphics card has been perfectly assembled. It is easy to install at home and is ideal for those who are looking to build with a liquid-cooled graphics card for the first time. The heat dissipation ability of AORUS WATERFORCE leads the industry again and the radiator size is doubled from 120mm to 240mm. With two 120mm RGB fans, the GPU overclocking ability can be boosted and kept stable. The excellent RGB lighting not only lights up the front, side, and back of the graphics card, but also the two 120mm fans of the radiator. Through the AORUS engine, the RGB lighting in each zone can not only be linked together but also offers various lighting effects. The sturdy FEP tube minimizes loss of water and has high thermal stability as well as high-pressure tolerance to greatly enhance product life and durability.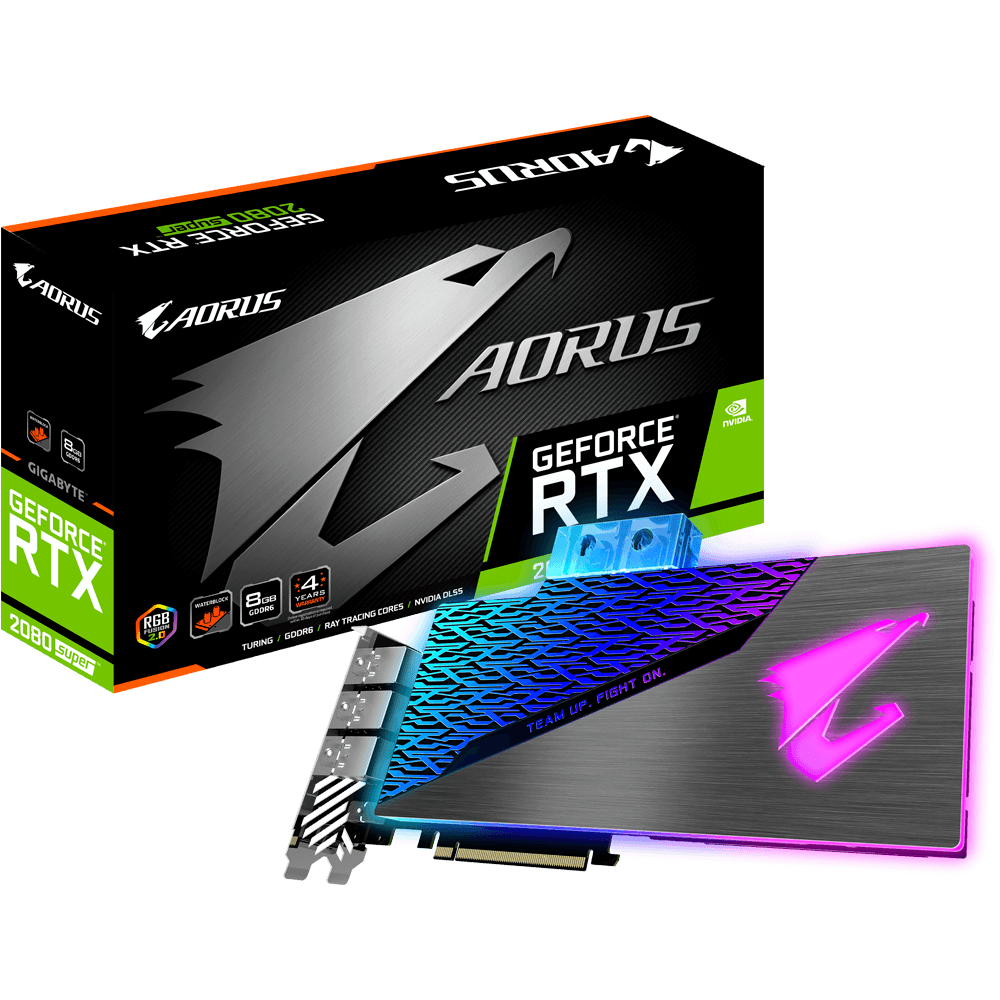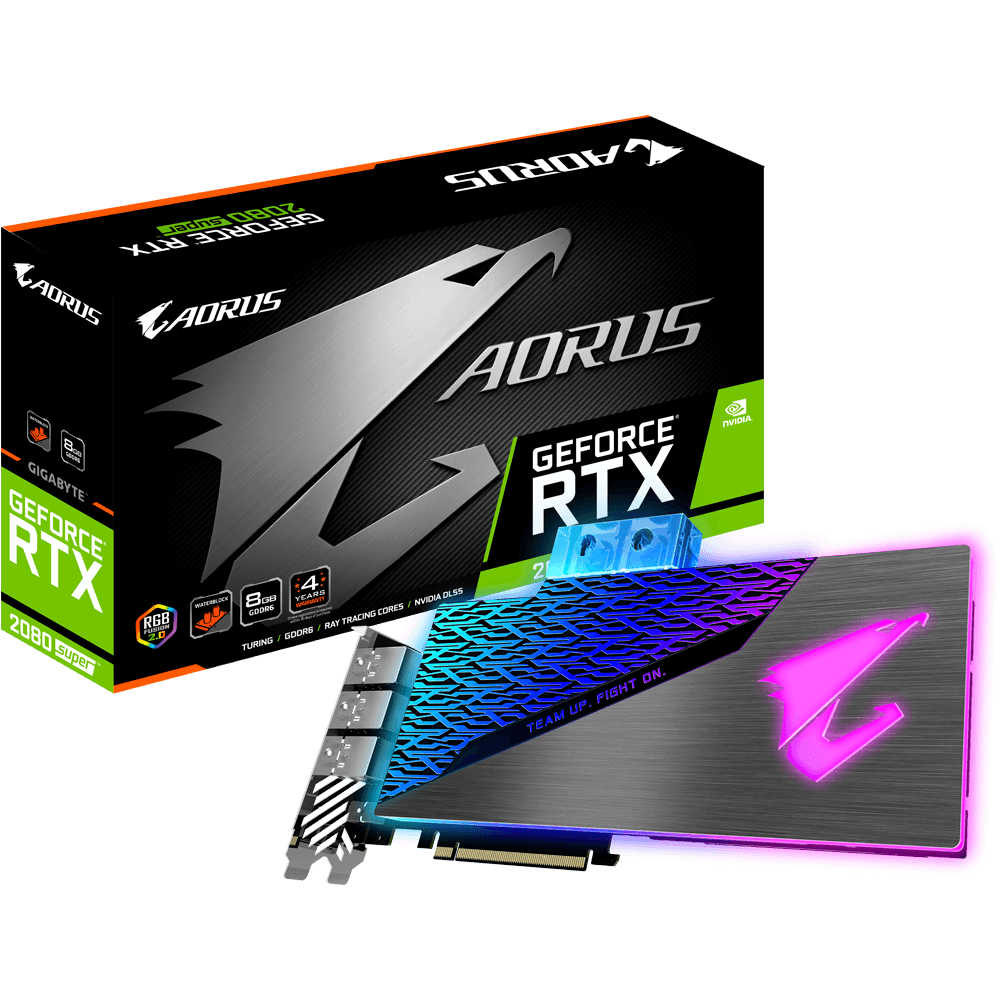 AORUS GeForce

®

 RTX 2080 SUPERTM WATERFORCE WB 8G
AORUS WATERFORCE Water Block graphics card is the best choice for enthusiastic players who love to create their own desktop PC style. For traditional graphics cards, not only does replacing the water cooling kit void the graphics card warranty, but there's also no guarantee that the graphics cards are compatible with 3rd-party customized water blocks. AORUS offers the top-of-the-line overclocked GPUs, optimized water-loop design, large copper water block, factory-assembled professional quality, excellent RGB lighting effects with the most important features of the official warranty, allowing players to enjoy high quality without any worry. The professional design of AORUS water block can quickly remove heat generated by the GPU, VRAM, and MOSFET, keeping the graphics card cool and stable even when aggressively overclocked. Whether on the front side or the backside, the graphics card can display a variety of stunning RGB lighting effects, becoming the most dazzling component in the chassis. In addition, the aerospace-grade PCB coating with dust-proof and moisture-proof texture makes the graphics card less vulnerable to damage from harmful particles.
Both AORUS WATERFORCE graphics cards provide a total of 7 video outputs compared to the reference card 5 video outputs. An additional 2 HDMI ports allow consumers to have greater flexibility when connecting to the display. We want you to experience the best service you have ever had. This is why on top of our standard 3-year warranty, we would like to offer you an additional 1 year of protection to your graphics card free of charge. You can enjoy a 4-year warranty by registering on the website within 30 days of purchase.
For more details, please visit the official GIGABYTE website: https://www.gigabyte.com/Graphics-Card/
To learn more about GIGABYTE: http://www.gigabyte.com