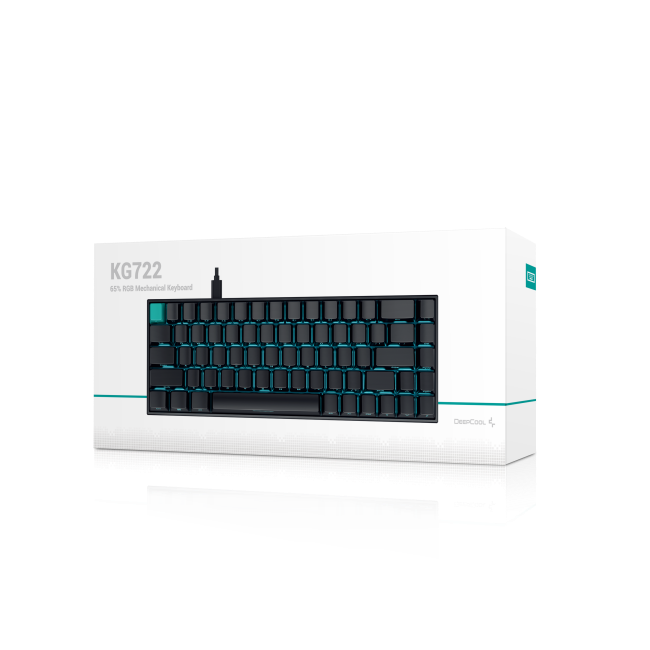 Jan.11th, 2022 — DeepCool, a global brand in designing and manufacturing high-performance computer components for enthusiasts worldwide, announces KG722 65% RGB Mechanical Keyboard.
Incredible keyboard, all packed with tons of function, in a small form factor.
The KG722 packs a punch in a tiny form factor that captures the rising and very popular 65% layout. Sporting a sleek design profile and side print laser engraved keycaps, the KG722 offers a minimalistic aesthetic that pairs well with any setup, not only for gamers. Gamers and professionals will both appreciate the smooth typing experience in addition to programmable key functions for full personalization. The compact size makes the KG722 the perfect keyboard for travel on the go.
Smooth, Linear Switches engineered
The KG722 features ABS double shot key caps and Gateron Red Mechanical Switches, which its smooth and linear switches deliver rapid keystrokes with minimal noise and no tactile bump. The quick responsiveness offers a faster typing experience.
Software Customization
Users will be able to access in-depth keyboard settings for full key remapping, on-the-fly macro recording, and dedicated profiles through an easy-to-use software interface. Any key can be remapped to serve a new function with deep customizations for functional macros, shortcuts, or full key sequences.
Availability, Warranty, and Pricing
The DeepCool KG722 65% RGB Mechanical Keyboard is available on the DeepCool worldwide network of authorized retailers and distributors and backed by a one-year warranty, alongside the DeepCool worldwide customer service and technical support network.
MSRP $79.99 KG722 65% RGB Mechanical Keyboard
Follow us @DeepCool on Facebook, @Deepcoolglobal on Twitter, and @deepcoolofficial on Instagram