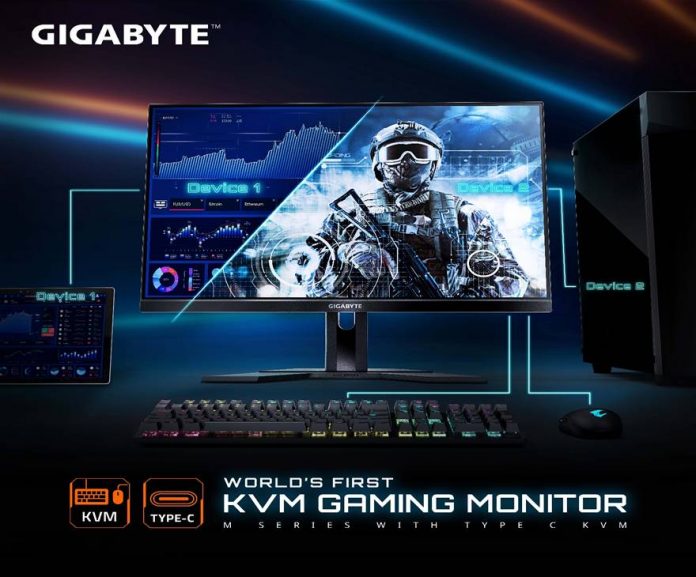 Transforms the way you perceive monitors, elevating both your work n' play experience!
Taipei, Taiwan September 14, 2020 – GIGABYTE TECHNOLOGY Co. Ltd, a leading manufacturer of motherboards and graphics cards, is excited to unveil its latest gaming monitor lineup designed to enhance work productivity, entertainment, and offer an ultra-fast gaming experience. Traditionally, KVM is widely adopted to enhance productivity in testing environments or multimedia broadcasting. However, KVM is not only limited to those applications. With the development of technology and evolving consumer behavior, people nowadays tend to spend a great deal of time on mobile phones and have multiple mobile devices. As a brand constantly seeking to improve user experience, GIGABYTE perceives this trend and developed a series of built-in KVM monitors to integrate and elevate users' enjoyment level. The new lineup equipped with the USB Type-C ports that provide display, data, and power delivery to mobile devices. By connecting the devices (with DisplayPort alternate mode support) to the monitor directly, users get to use the keyboard and mouse to control the device. What's great about it is that it not only functions like screen mirroring for a bigger display pleasure but uses peripherals to control and even play mobile games! Aside from the recreational use, because of the uniqueness of cross-platform support, no longer need to concern about the operating system, productivity enhancement couldn't be any easier!
The most unique characteristic of our built-in KVM is we include the KVM button directly on the monitor. With the dedicated KVM button on the rear side, users no longer need to spend a lot of time scrolling down the monitor menu to search and enable the function. It not only saves time but facilitates the use as turning the feature on is only one button away!
In spite of the benefits our built-in KVM brings, it's not the only boast for this lineup. As the model name entails, this lineup is part of our gaming series. The phenomenal panel specification ensures high-performance gaming with its fast response time and refresh rate; the decent color reproduction, wide color gamut and wide viewing angles for detailed and sharp picture quality tailoring to every purpose use. The lineup also supports AMD FreeSync technology, providing the most fluent gaming experience that allows users to game without picture stripping.
M27F Gaming Monitor
M27F is a 27-inch flat-display which features FHD resolution and IPS-grade color performance, covering wide color gamut of 95% DCI-P3/ 130% sRGB to ensure color accuracy. With the 144Hz refresh rate and 1ms response time, users can enjoy fluid movement in every activity. On top of that, users can gain extra power when turning on GIGABYTE classic tactical features on the battlefield. The well-loved Aim Stabilizer, Black Equalizer, and customizable crosshairs all aim to assist your win. This model brings gaming to the next level with both of the descent panel specifications and the aforementioned GIGABYTE KVM features.
M27Q Gaming Monitor
M27Q is a 27-inch flat-display and uses GIGABYTE SuperSpeed IPS technology to achieve a 0.5ms MPRT response time with a 170Hz refresh rate, offering brilliant picture quality and smooth moving images. For color performance, QHD resolution and super-wide color gamut of 92% DCI-P3/ 140% sRGB provide the outstanding color accuracy and consistency. Moreover, this monitor is VESA certified DisplayHDR 400 brings spectacular display quality for the premium game and movie experience. This model also supports GIGABYTE classic tactical features, what's even better is it comes with the PIP/PbP function. Combining this function with KVM, it offers further flexibility and a wide range of applications. Users can even set hotkeys in the OSD SideKick software to quickly enable this function, enhancing the maximum power of multitasking ability!
The GIGABYTE KVM gaming series will be available at your local retailer in September/October.
For more product information, please visit our website!
M27F Gaming Monitor: https://www.gigabyte.com/Monitor/M27F#kf
M27Q Gaming Monitor: https://www.gigabyte.com/Monitor/M27Q#kf