SUPERIOR EXPANSION – Compatible with the E-ATX motherboard, 420mm radiator support and ten 2.5" of SSD storage space
Taipei, Taiwan, December 28, 2020 – GIGABYTE, the world's leading premium gaming hardware manufacturer, announced today the new full-tower gaming case – AORUS C700 GLASS is the first case we designed for the falcon image of AORUS. Built for powerful expansion and outstanding cooling, AORUS C700 GLASS supports a maximum E-ATX motherboard, 420mm liquid cooling system, up to ten 2.5" of SSD, and a total of eight 120mm fan system, which enables the entire case achieves the most extreme performance and thermal solution. AORUS C700 GLASS adopts the different translucent black on both sides' tempered glass, the special processing of AORUS pattern design on the left side can be synchronized with another RGB lighting. Gamers can download the RGB FUSION 2.0 software to customize the various RGB lighting effects and colors to make the gaming case perfect perform all of AORUS devices and be collected as a marvellous artwork.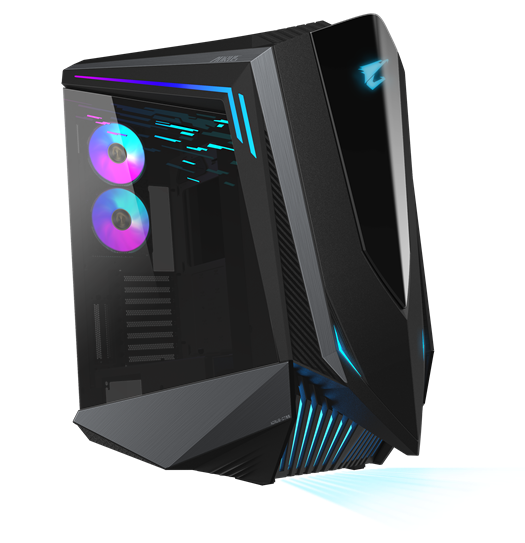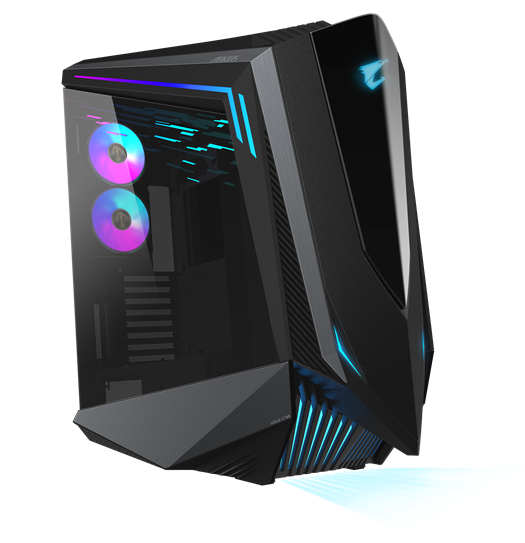 Superior Expansion x Superior Cooling
AORUS C700 GLASS built for top-tier performance and expansion, which can fit maximum E-ATX motherboard, 198mm-height CPU cooler, 490mm-length graphics card and 200mm-length PSU. The fan system can be installed with three 140mm or 120mm fans at the top and front panels respectively, and one 140mm or two 120mm at the rear. In addition, AORUS C700 GLASS pre-installed not only three 120mm PWM fans at the front but also two 120mm ARGB fans at the rear. AORUS pre-built the outstanding airflow for the users without installing an extra fan. The liquid cooling system can be installed with a maximum of 420mm radiator at the top, with a maximum of 360mm radiator at the front, and with a maximum of 140mm radiator at the rear. For hard disk installation, it can support 6 sets of 2.5″ SSD and 4 sets of 3.5″ HDD exclusive installation space, and the 3.5" HDD also can be replaced by 2.5" SSD. In other words, the case can install a total of ten 2.5" SSD. It's pretty suitable for users who need abundant storage space. Moreover, the module design of the drive bays makes users more facile to assemble.
Vertical and Horizontal Installation
Support for vertical or horizontal GPU installation, gamers have another option to choose the best viewing for the graphics card. The card's outlook and RGB lighting effects can bring a more dazzling show.
Easy to install. Easy to use.
User can easily remove case panels without any tool, it's convenient to expand device and regular clean. In terms of the way of PSU installation, users can assemble the PSU with the mounting plate in advance, then push into the case from the rear side, which allows user to install more easily and also convenient to upgrade components. Moreover, AORUS C700 GLASS built-in ARGB and PWM hub controller provided three 5v 3pin ARGB connectors and five PWM connectors, which allows users to connect extra RGB strips and expand more thermal fans. Let's build your own rig of your dream!
Expansive I/O Interface. All Your Bases Covered.
Equipped with four USB3.0, a 20 GB/s USB 3.1 Gen2 Type-C port, an HDMI, audio port, RGB buttons and Fan speed buttons. AORUS provides the advanced interface design, to meet the gamers' needs for connecting more peripherals devices.
Hidden Power, Succinct Beauty
Enjoy a clean look by hiding the PSU and those messy power cables inside the PSU shroud, while separating the PSU heat from the rest of the internal system. With the window design on the left side of the shroud, users can show off the cool outlook of PSU. In addition, the left and right cabin both have the cable management space and ties which can utilize various cable thicknesses, to make gamers manage it more easily and perfectly.
For more details on AORUS C700 GLASS gaming case please visit the product page: https://www.gigabyte.com/Chassis/GB-AC700G#kf