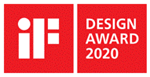 Taipei, Taiwan, February 27th, 2020 – GIGABYTE TECHNOLOGY Co. Ltd, a leading manufacturer of motherboards and graphics cards, announced that the AORUS CV27Q gaming monitor has won the iF design award 2020 for its exclusive features, fine-tuned details, ultra durable product quality, and phenomenal design.
Despite the high specification panel offering color display in perfection, GIGABYTE adds a different notion to the monitor by developing numerous exclusive hardware and software features. The exclusive HBR3 features high bandwidth so gamers will no longer feel limited as they can simultaneously enjoy fast refresh rates and maximum color depth with HDR function enabled. Gamers will be amazed by its native 1500R super immersive feel and the tactical features it brings to the game, an actual in-game feel.
The AORUS exclusive feature ANC (Active Noise Cancelling) has been a hot topic among gamers and the upgraded 2.0 version offers gamers with SNR (signal-to-noise ratio) up to 120 db and maximum 600 input impedance. By plugging high-impedance headphones directly into the audio jack, gamers can immerse themselves in the most appealing music quality that AORUS CV27Q presents. The upgraded Black Equalizer 2.0 presents sophisticated pictures for both gaming and audio-visual satisfaction. The technology is capable of processing 1,296 partitions simultaneously and optimizes the screen display by bringing extra light to the dark side of the picture for better visibility.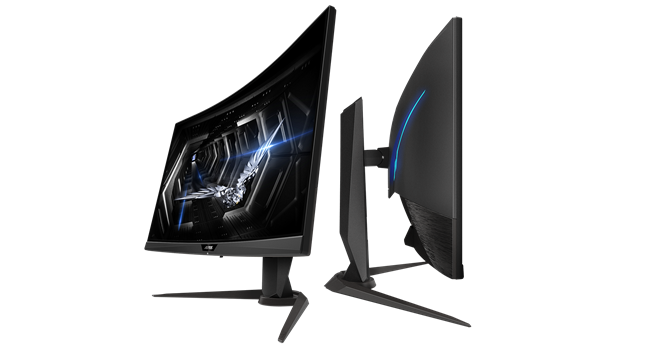 GIGABYTE has invested a great deal of effort in developing gaming monitors not only for aspects such as its innovative features and aesthetics but also for exclusive tactical features. The design concept for AORUS CV27Q is to replicate the dive of a falcon when it is pursuing its prey. The LEDs flashing on the back of the monitor can be synchronized through GIGABYTE RGB Fusion software with other components to add more diverse lighting patterns to the gaming system.
"We are thrilled that although GIGABYTE is a newcomer to the gaming monitor market, we have received so much positive feedback. Winning the iF design award is a driving force for our continual pursuit for innovation and research development. While most brands focus on highlighting the panel specs, AORUS gaming monitors are unique in offering the perfect panel specs as well as phenomenal hardware and software features. AORUS CV27Q brings gaming monitors to the next level by offering HBR3 high bandwidth and the native 1500R curvature to provide a more immersive gaming experience. The exclusive AORUS tactical features Active Noise Cancelling 2.0 and Black Equalizer 2.0 spice it up and really make it stand out from the others. We consider appearance to be equally important to the hardware itself, that's why AORUS gaming monitors always strike a balance between aesthetics and functionality. "said Jackson Hsu, Director of the GIGABYTE Product Development Division.
For more information on AORUS CV27Q, please visit the official GIGABYTE website:
https://www.gigabyte.com/Monitor/AORUS-CV27Q#kf
For more information and news on GIGABYTE products, please visit the official GIGABYTE website:
About GIGABYTE
GIGABYTE is an engineer, visionary, and leader in the world of tech that uses its hardware expertise, patented innovations, and industry leadership to create, inspire, and advance. Renowned for over 30 years of award-winning excellence, GIGABYTE is a cornerstone in the HPC community, providing businesses with server and data center expertise to accelerate their success. At the forefront of evolving technology, GIGABYTE is devoted to invent smart solutions that enable digitalization from edge to cloud, and allow customers to capture, analyze, and transform digital information into economic data that can benefit humanity and "Upgrade Your Life". Please visit https://www.gigabyte.com/ for more information.