Taipei, Taiwan, May 20th, 2020 GIGABYTE TECHNOLOGY Co. Ltd, a leading manufacturer of motherboards and graphics cards, announced today the launch of AORUS RGB MEMORY 4400MHz. The all new design memory kit features the highly-praised Hynix D die, providing high bandwidth and high performance of DDR4 XMP 4400MHz under 8GB*2 mainstream specifications with a friendly price tag. The AORUS RGB MEMORY 4400MHz is qualified by the high-end platform of INTEL® Z490 and AMD X570, offering distinguished quality and stability with a lifetime warranty. Through RGB 2.0 support, users can create personal stylish lighting among DRAM and system components with balance of performance, budget, and fashion.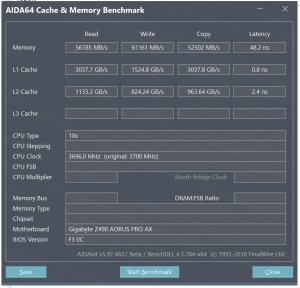 Following the innovation of computer platforms, the support of high memory XMP increases as well. GIGABYTE AORUS RGB MEMORY has won most credits consistently from the industry, and brings extra to the plate with the latest AORUS MEMORY 4400MHz 16GB, with the specification of 8GB*2 DDR4 XMP 4400MHz and 19-26-26-46 timing. AORUS RGB MEMORY 4400MHz 16GB adopts Hynix D die which is the latest optimized option that memory overclockers highly recommend, and chose this level of product when purchasing. GIGABYTE implements this high quality material on AORUS RGB MEMORY 4400MHz memory for overclockers who chase high memory frequency and enthusiasts can take full advantage of the various performance boosts.
AORUS MEMORY 4400MHz 16GB is verified with both Intel® and AMD chipset boards, offering the best performance regardless of platform. Collocated with GIGABYTE select motherboards of whole new memory layouts and Shielded Memory Routing, the high bandwidth and high performance specialty of this memory kit can be fully elaborated. As always, AORUS RGB MEMORY 4400MHz 16GB adheres to GIGABYTE Ultra-Durable standards and has been tested under rigorous testing conditions to ensure that the new memory kit offers the most reliable performance. Furthermore, with the promise of a lifetime warranty, users can get everything right at one time and have nothing to worry about.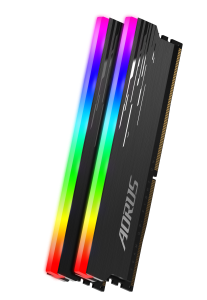 AORUS MEMORY 4400MHz 16GB features aluminum heatsinks with an anodized hairline surface, along with printings on the top, presenting low-pitched tactile quality, and creating a concise style of fashion design for a sleek, metallic look. The main body of the heatsinks is chamfered so users won't scrape their fingers when seating the memory kits.
Supporting the original design for RGB lighting, AORUS RGB MEMORY 4400MHz 16GB takes it up a notch and offers a more fluid and robust lighting display. Exclusive diffuser and lighting effects illuminate the AORUS design patterns to give the memory sticks a more vivid but not too sharp lighting glow. By using the GIGABYTE exclusive RGB Fusion 2.0 App., users can synchronize the RGB lighting effects of their components and play around with the various building-in lighting modes to their system. By customizing the memory lighting shining along with motherboard and peripherals, users can showcase their own RGB style with the impressive lighting on the system.
GIGABYTE AORUS RGB MEMORY 4400MHz 16GB will be available at the end of 2020 Q2. For more details, please refer to the official AORUS website: https://www.aorus.com/product-list.php