The best choice of GeForce® GTX 1650 GDDR6
Taipei, Taiwan, April 20th, 2020 – GIGABYTE TECHNOLOGY Co. Ltd, a leading manufacturer of motherboards, graphics cards and gaming gears, today announced the EAGLE series graphics card – GeForce® GTX 1650 D6 EAGLE OC 4G. The EAGLE series graphics card not only provides gamers with the coolest appearance but also the best choice at this price in terms of performance and cooling. The surface of the GeForce® GTX 1650 D6 EAGLE OC 4G is a high-quality matte blue-grey, and a fluorescent blue EAGLE is dotted along with the front transparent panel and the back panel, expressing a stylish and premium image. In addition to its stylish appearance, GeForce® GTX 1650 D6 EAGLE OC 4G uses GIGABYTE certified overclocked GPUs, coupled with the latest GDDR6 high-speed memory, which can improve computing performance and becoming the best choice for GeForce® GTX 1650.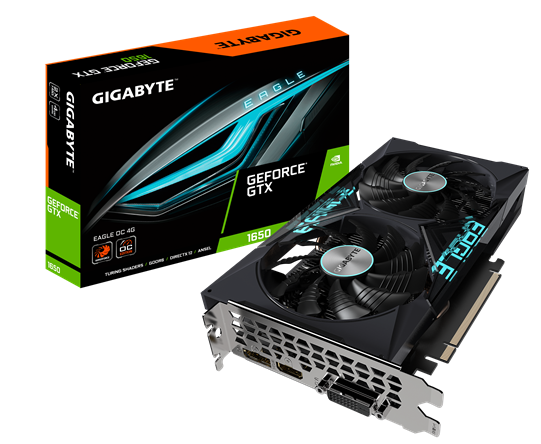 GeForce® GTX 1650 D6 EAGLE OC 4G WINDFORCE 2X cooling system features 2x 90mm unique blade fans, alternate spinning fan, composite copper heat pipe direct touch GPU and 3D active fan, all working together to provide effective heat dissipation. The GIGABYTE "Alternate Spinning" is the only solution that can solve the turbulent airflow of adjacent fans. GIGABYTE turns the adjacent fans in the opposite direction, so that the airflow direction between the two fans is the same, reducing the turbulence and enhancing the airflow pressure. In addition, the use of GIGABYTE certified Ultra-Durable components and fully automated processes improve the quality of this graphics card.
GIGABYTE has also released GeForce® GTX 1650 D6 WINDFORCE OC 4G, GeForce® GTX 1650 D6 OC 4G and GeForce® GTX 1650 D6 OC Low Profile 4G with the latest GDDR6 high-speed memory to meet various demands.
About GIGABYTE
GIGABYTE is an engineer, visionary, and leader in the world of tech that uses its hardware expertise, patented innovations, and industry leadership to create, inspire and advance. Renowned for over 30 years of award-winning excellence, GIGABYTE is a cornerstone in the HPC community, providing businesses with server and data centre expertise to accelerate their success. At the forefront of evolving technology, GIGABYTE is devoted to inventing smart solutions that enable digitalization from edge to cloud, and allow customers to capture, analyze, and transform digital information into economic data that can benefit humanity and "Upgrade Your Life". Please visit https://www.gigabyte.com/ for more information.