Special thanks to ZIOTAC for sending this item for review. Ziotac is a South Korean company that exports Korean products and market them globally. They're a group of marketing professionals that creates new value in global marketing services.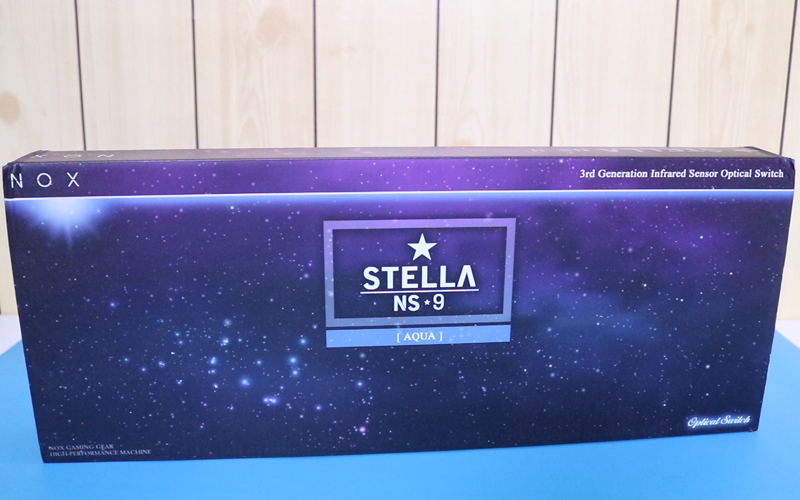 SPECIFICATIONS
| | | |
| --- | --- | --- |
| Switch | Switch Type | Infrared Optical Switch |
| | Switch Name | Content Optical Switch |
| | Throw Depth | 4m |
| | Actuation and Reset Depth | 2m |
| | Actuation Force Needed | 55g |
| | Key Travel | 55cn ± 5g |
| Design | Layout | US 104 keys |
| | N-Key Roll Over | Anti- Ghosting w/ 104 Key Rollover on USB |
| | Function and Illumination | Waterproof, Aqua LEDs, Quick Access Media Keys, Programmable LED |
| | Weight | 1.3kg |
| | Height | 150mm |
| | Width | 443mm |
| | Depth | 55mm w/ Large Rubber Feet |
| | Cable Lenght | 1.9m |

FEATURES
The Premium Nox Stella NS9 Optical Gaming Keyboard is pack with a lot of features that provide the best experience you can get from a keyboard. It is currently priced at $65.90 on Amazon and eBay with a $5 standard international shipping.
laser optical switch equipped
strong durability with 100m keystrokes
2 spare switch
0.2ms response speed
nano-injected polyurethane waterproof design
dreamy aqua leds and rgb on the side
Korean/English dual injection keycap
easy 12 multimedia keys
customizable gaming led modes
step sculpture 2 design
1.3kg stable weight
UNBOXING
In the box, we have the 2 spare switches, a keycap puller, a switch puller and ofcourse the keyboard itself. The box isn't a typical Chinese or Korean box so it is really nice to see the effort in the design of the box. The unboxing experience on this one is really straight forward no gimmick or what so ever.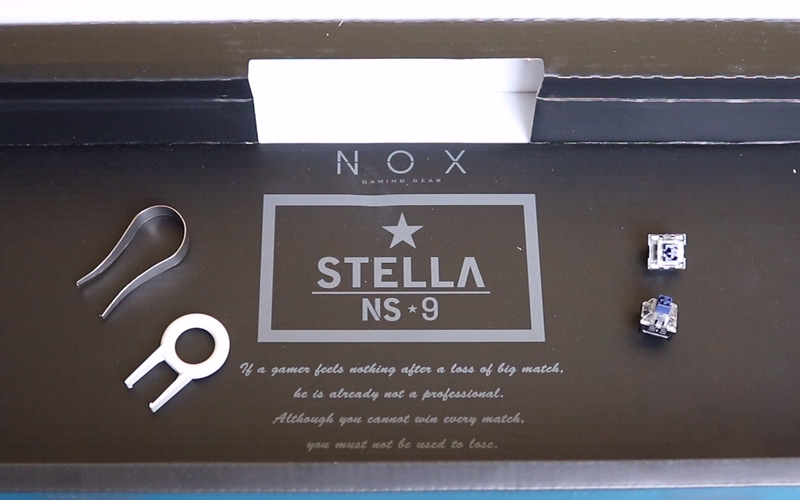 DESIGN AND STRUCTURE
In terms of the design, it has an ergonomic design with Vicky Style design. It also has Korean and English dual injection keycaps with bright AQUA led and RGB lighting on the side which isn't customizable.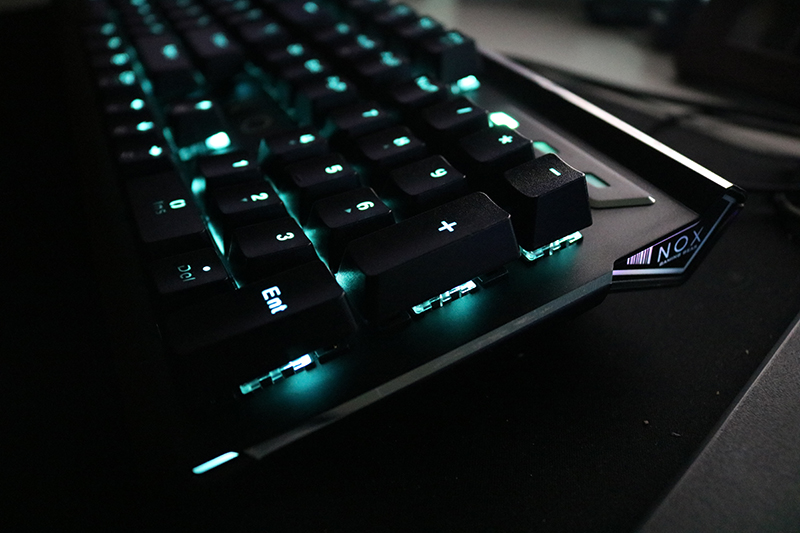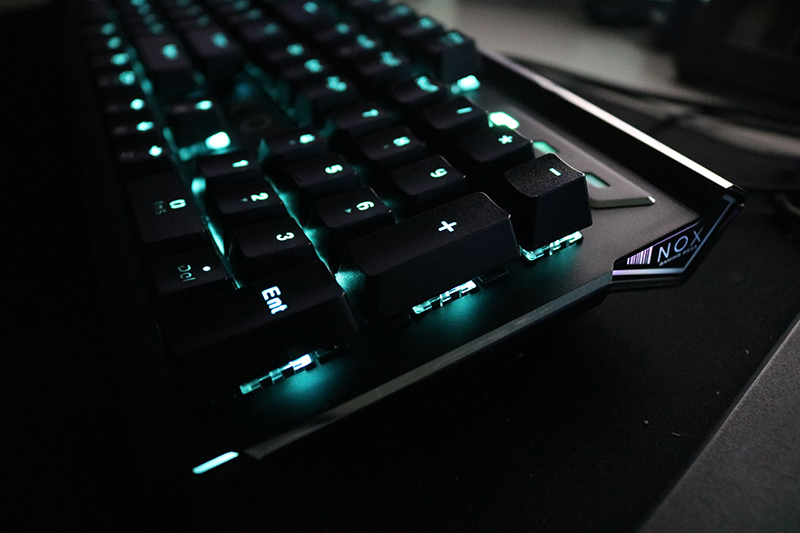 As for the structure of the keyboard, it has an aluminum body frame and plastic at the back of the keyboard. Unfortunately, the included switch puller is a super thin metal that can't even pull a single switch. The switch itself is really hard to pull maybe due to its waterproof design.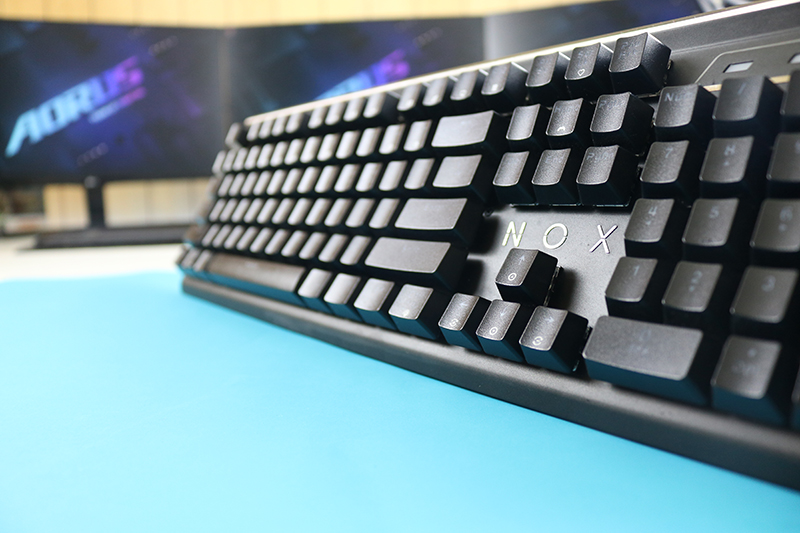 The Nox Stella S9 uses a non-contact optical switch using an infrared sensor. This provides a fast response speed of 0.2ms with a 100m keystrokes for its life span and clicky experience. It also features a 3rd generation replaceable anti-dust switch where 2 extra switches are included.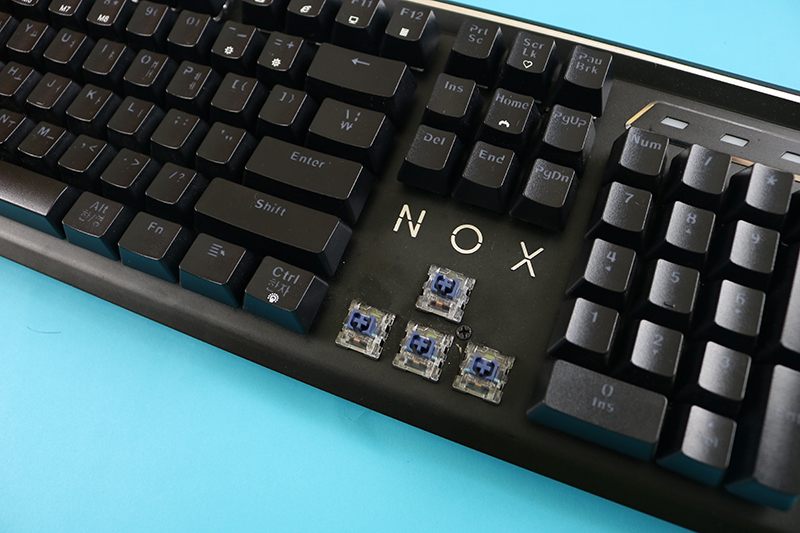 What is "Optical Switch"?
Optical Switches use infrared light to measure the travel distance of your keystrokes or to register your keystrokes.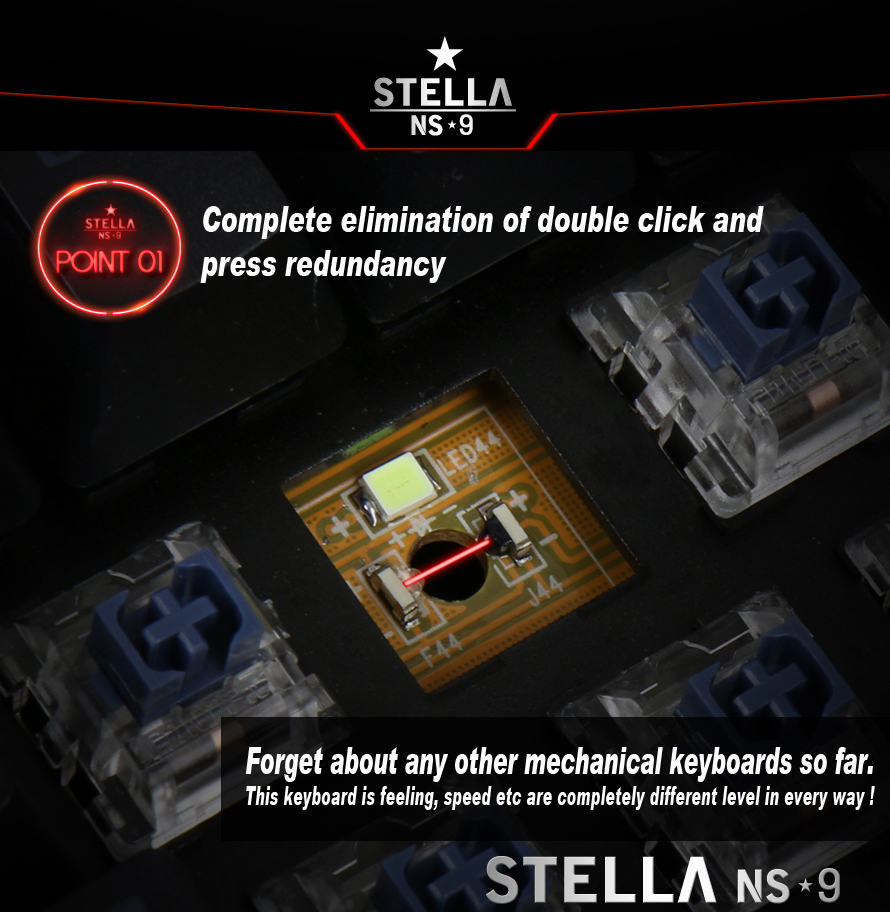 They also advertise this keyboard as a WATERPROOF keyboard with 4 coats of nano-jet spray method with polyurethane waterproof design.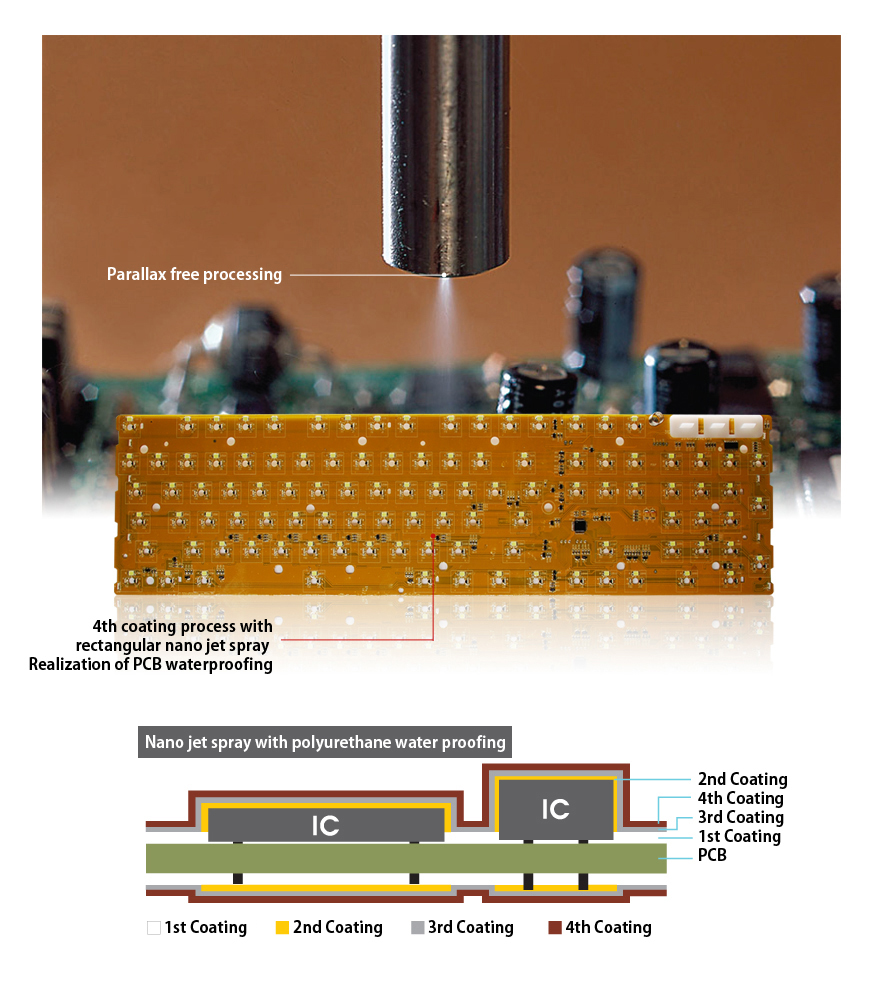 As of the sound test, this keyboard provides a clicky experience similar to a blue switch but much smoother and faster compared to a blue switch (ofcourse it is due to a different type of switch).
LIGHTING MODES
Unfortunately, the NOX Stella NS9 is not an RGB keyboard. So if you're an RGB enthusiast this keyboard is not for you. It doesn't have any software to customize the lighting effects and it only uses a command for the lighting mode.

PERFORMANCE
In terms of performance, NOX Stella NS9 can provide you the best option in both typing/work and gaming. Using this keyboard for my work (usually a lot of typing) doesn't give me much stress and its really comfortable.
In gaming it performs really solid, the response is great and I don't have any problem due to the anti-ghosting feature.
All in all, in the performance department I don't have much to say about this keyboard. Its really comfortable, soft and performs really well. This is my second optical gaming keyboard and both of them are really good.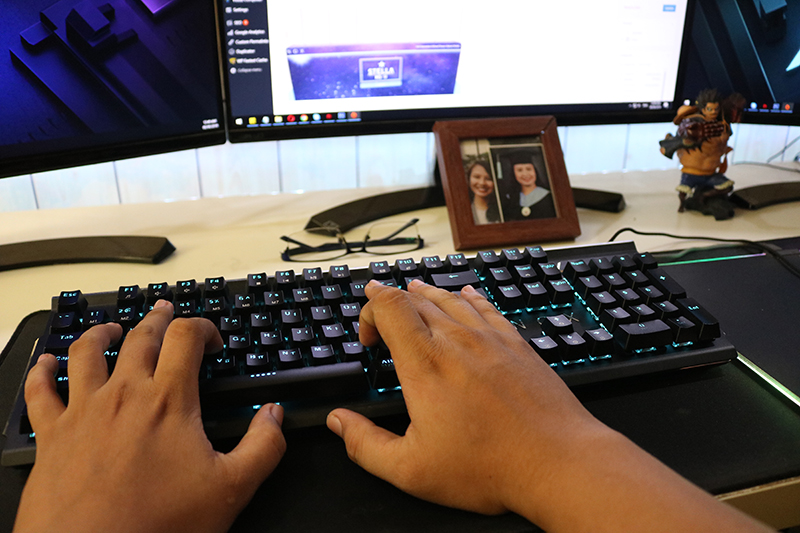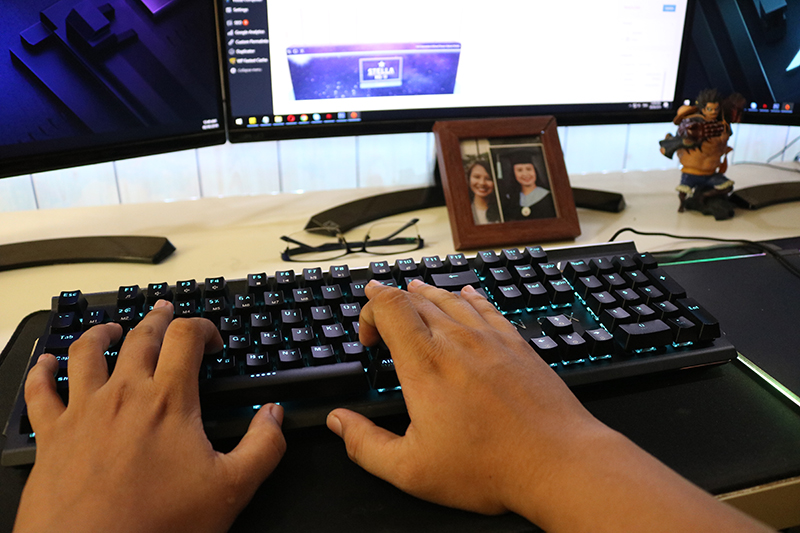 PROS
solid performance in both typing/gaming
aluminum alloy for the body frame
gold plated USB
fair price for a premium keyboard
ergonomic design
comfortable to use
waterproof feature w/ 4 coats of nano-jet
braided cable
CONS
no wrist rest
no software
non-rgb keyboard
switch puller too thin
available on Amazon & eBay only